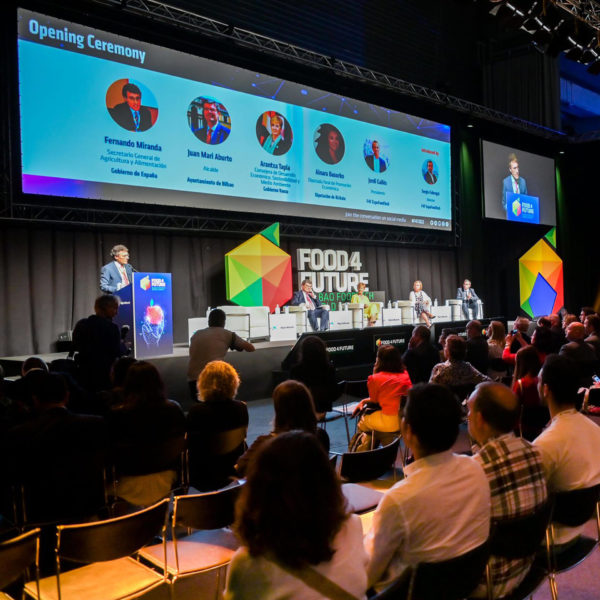 Food 4 Future is a meeting place for food companies to showcase case studies, trends, new technologies and solutions for sustainability, health and digitalisation throughout the food value chain.
BBTWINS had a booth for 3 days, sharing information about the project and sharing examples of the digital transformation of the agrifood industry. The event attracted around 7000 attendees from 25 countries.
Stakeholder Engagement
Daniel de la Puente was a speaker in the panel "Artificial Intelligence and Other Technologies in Agri-food Production" Together with 3x other panellists (Vicenç Segalés Minguella, Engineering and Continuous Improvement Director at Raventós Codorniu; Carlos Rodriguez Merayo, Director General of Business Development at Marqués Professional Services Information Technology; Marta Otero, Researcher at Eurecat) and one moderator (Gonzalo Fornos, National President of AERCE).
This group of stakeholders met in the leadup to F4F summit, and there was discussion after the panel where the panellists discussed the possibilities of digitalization for agri-food industries, with the following conclusions:
the digital transformation of food industries is more of a transformation of the business, of the mindset, to achieve constant digital perseverance, rather than a simple digitalization of processes;
digital twins are the highest degree of digitalization that food industries can possibly achieve, which gives BBTWINS a clear competitive advantage;
digital transformation requires investment, so it's crucial to evaluate the ROI per digitalization action and prioritize the implementation of the ones with a highest ROI that also are the solution to the most pressing problems, bottlenecks or inefficiencies.